"We seek to prepare our students for not just being work ready but also life ready."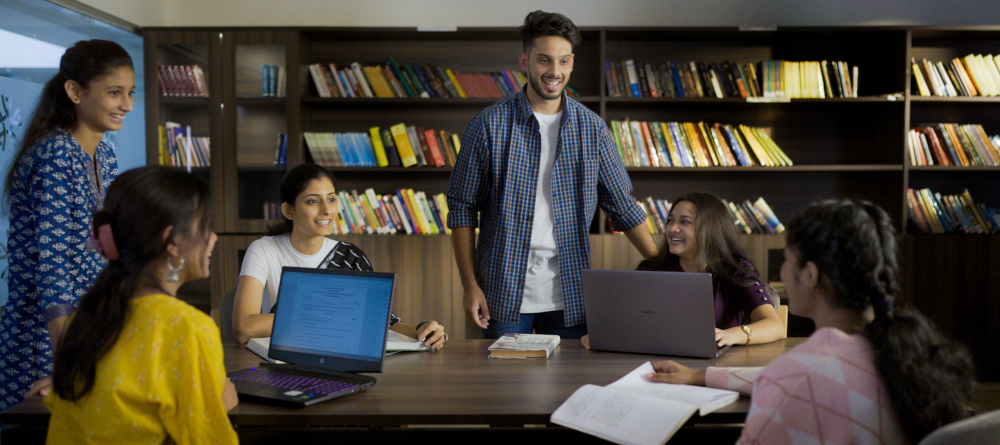 Chanakya University is established with the purpose of creating knowledge and transformative leaders for holistic development. The true purpose of our Academics is to develop well-rounded, and creative individuals.
As our academics is structured around the new National Education Policy (NEP 2020), we offer comprehensive liberal education to create a whole new generation of Thought Leaders and Global Indians. The purpose of liberal education is not only to prepare students for their first job but also for subsequent jobs and for life. With the onset of the fourth industrial revolution, disruptive technologies and a rapidly changing employment landscape; it is essential to prepare graduates for careers, and beyond towards their entrepreneurial journey in both the business as well as social spheres.
Liberal education when operationalized in the institutional context, takes the form of multidisciplinary and holistic education. The objective of multidisciplinary and holistic education is to have a more imaginative and broad-based liberal education as a foundation for the holistic development of students along with rigorous specialization in chosen fields.
Check out the Elements of Liberal Education at Chanakya University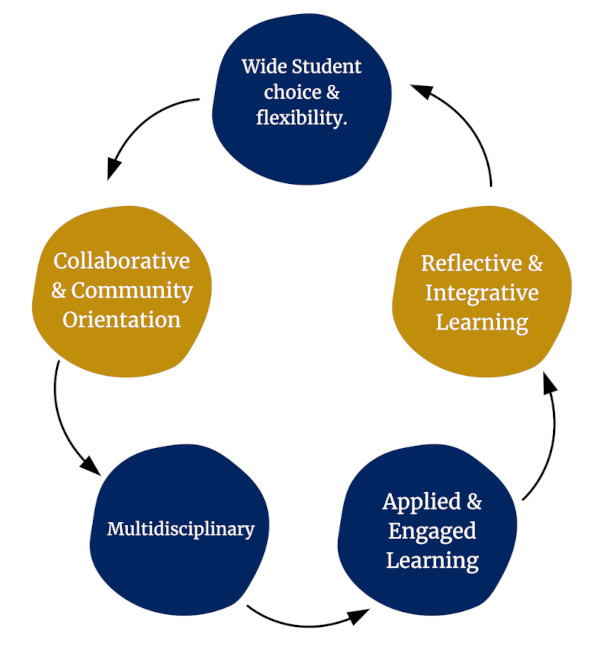 Liberal education at Chanakya University is not only about what we teach and how we teach our students; but about creating a supportive learning environment and integrating professional learning to empower students:
Wide Student Choice and Flexibility:
Students will be free to choose their fields of study without the restrictions of disciplinary boundaries. They can combine fields or subjects to match their interests, passion and their learning and career paths. This flexibility will motivate learners to explore widely and encourage them to be deep learners.
Reflective and Integrative Learning:
Students will be constantly encouraged to reflect and ask "why they are learning what they are learning." They will start on a deliberative and intentional process of seeing connections between different components of learning. Liberal learning at Chanakya University helps develop habits of mind that prepare students to make judgements in their personal professional, civic and national life.
Collaborative and Community Orientation:
At Chanakya University, students learn to use their knowledge and skills to solve real problems of the local community and the wider world. Our pedagogical approach encourages students to be actively engaged with what they are learning. As a result, our students will seek to apply and integrate insights and skills from a variety of lenses and sources. It also ensures that students gain meaningful and authentic experiences in their educational journey.
Applied & Engaged learning:
The contemporary world of work and research demands that we learn to collaborate. The modern workplace demands from its employees an ability to work together to solve problems creatively. Chanakya University's pedagogy will foster the ability to collaborate as an essential skill of 21st century.

Education as being embedded in the community is very central to the vision of Chanakya University. Academic practices at Chanakya will facilitate students working with communities to solve problems that affect them.
Multidisciplinary:
Liberal education at Chanakya works with the idea that different disciplines are 'branches of the same tree' and disciplines and subjects are vital to develop different habits of mind and prepare students for the future workplace. We seek to achieve this by providing opportunities for students to pursue multiple fields of study and make our students 'cognitively agile' and ready for the changing world of work. Jobs that survive automation will need 'mind-sets' that can see connections between different fields of study.
Schools of Learning at Chanakya University
Grooming students to become "global citizens" with a focus on meaningful development of "global societies."