"We seek to prepare our students for not just being work ready but also life ready."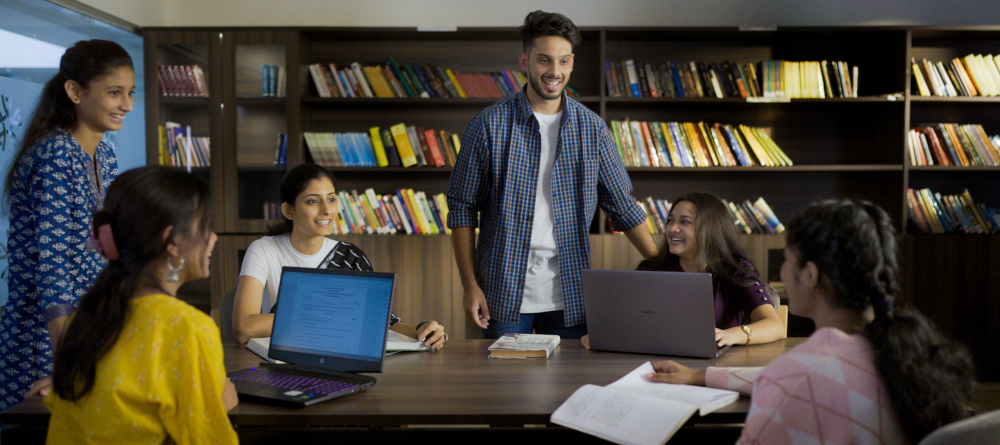 Chanakya University is established with the purpose of creating knowledge and transformative leaders for holistic development. The true purpose of our Academics is to develop well-rounded, and creative individuals.
As our academics is structured around the new National Education Policy (NEP 2020), we offer comprehensive liberal education to create a whole new generation of Thought Leaders and Global Indians. The purpose of liberal education is not only to prepare students for their first job but also for subsequent jobs and for life. With the onset of the fourth industrial revolution, disruptive technologies and a rapidly changing employment landscape; it is essential to prepare graduates for careers, and beyond towards their entrepreneurial journey in both the business as well as social spheres.
Liberal education when operationalized in the institutional context, takes the form of multidisciplinary and holistic education. The objective of multidisciplinary and holistic education is to have a more imaginative and broad-based liberal education as a foundation for the holistic development of students along with rigorous specialization in chosen fields.
Liberal Education framework at Chanakya University
Towards designing the curriculum for General Education (to be referred to as, Chanakya Foundation) component of liberal approach to Education
At Chanakya University we seek to be the pioneering exemplar of a university's vision as elucidated in the National Education Policy 2020. True purpose of education is to develop well-rounded, and creative individuals. Education should build character, ethical values, intellectual curiosity, spirit of service and an ability to 'learn to learn'. A comprehensive liberal education for the 21st century aims to develop all dimensions – intellectual, aesthetic, social, physical, emotional, spiritual, and moral -of an individual. It is about discovering oneself. The concerns of India and the Indian knowledge system will inform teaching research and practice at Chanakya university. The University will be a multi-disciplinary institution offering new-age programs with the integration of the Indian knowledge system. Liberal education at Chanakya University has four dimensions:
Chanakya Foundation (General Education) – 50 Credits
Disciplinary Majors – 80 Credits
Minors or Open Electives 30 Credits
(Total Minimum credits for Honours Degree – 160 Credits)
Students will be expected to demonstrate work equivalent to at least 8 credits which qualifies as Learning Beyond the Classroom. These credits could be claimed under the Chanakya Foundation, the Disciplinary Majors, or the Minors. Through these four dimensions we seek to provide balance between 'breadth' and 'depth' of learning and provide larger opportunities to learn from beyond the classroom by working with the community at large.
General education is an important component of liberal education which provides all students broad exposure to multiple disciplines and provides the basis of intellectual and civic capacities. In general education students are given opportunities to develop basic skills like critical thinking, communication, and learning to learn. These skills complement the majors that students choose to study.
Student choice and flexibility is one of the cornerstones of liberal education. Freedom and choice contribute to student motivation to learn. We need to strike a balance between student choice and ensuring basic skills and competencies. This is achieved by making courses from different baskets of general education mandatory while students are free to choose different courses within the basket.
In designing courses in general education component and disciplinary major we need to keep in mind certain realities about learners and their future.
For about 85% of students of undergraduate programmes their first degree is the terminal degree. Students choose to work or be an entrepreneur post their first degree. Less than 30% of students will work in careers related to their majors. New technologies – AI and machine learning will automate the tasks and jobs that students hope to occupy after their first degree.
Given this situation we need to reflect on what courses we teach and how we teach them. Do we focus on large chunks of content or look at content as a vehicle to teach certain skills and competencies that will help our students in their future, personally and professionally.
This also compels us to look at the way we teach and assess any content. We need to focus on the learning process where students are not only engaged with what they are learning but their application in personal or professional life. Assessment determines and frames what students learn and assessment should encourage 'demonstration' of skills and competencies one has learnt through learning a content.
The course design process should not only focus on the content but explicitly state what skills and competencies we hope to impart to the students and state what 'pedagogies and assessment tools will help students in acquiring them.
We also need to look at disciplinary majors differently. Disciplines are not just a 'body of knowledge' but certain' ways of seeing' and demonstrate some skills. Disciplines are a response to certain human concerns, aspirations and focus on certain aspects of reality with a certain perspective. As the great philosopher of science, Karl Popper, would put it "We are not students of some subject matter, but students of problems. And problems may cut right across the borders of any subject matter or discipline". All disciplines are branches of the same tree. They relate to each other and mutually influence each other. Designing a disciplinary majors need to take this larger picture into account. Minors of study can include either disciplines/courses relating to or supporting the major or catering to student interests beyond the majors or any disciplinary boundaries thereby providing the much need breadth of education.
Credits Spread of Undergraduate Education at Chanakya University
Types
Basket
Min. Credits
Minimum Credits in the Pool
Total Credits
Chanakya Foundation
Language and Communication
12
30


50
Data Skills
04
Digital Fluency
04
Life Skills
06
20
India Orientation
08
Specialization
Major
80
80
Minor or Open Electives
30
30
Total Credits
160
Following are the typical activities that qualify for credit transfer under Learning beyond the Classroom. Thirty hours of learning beyond the classroom would be considered equivalent to one credit of work. These activities must accompany a detailed documentation from the student.
NCC
NSS
Community voluntarism
Teach for India, Youth for Seva and such voluntary programmes
Initiatives in Social Entrepreneurship
Sports pursued at an amateur or a professional level
Immersive learning in the arts, culture, and traditional knowledges
Climate mitigation actions with demonstrable impact
Initiatives to address livelihoods, poverty, community building, and national integration
Schools of Learning at Chanakya University
Grooming students to become "global citizens" with a focus on meaningful development of "global societies."