Throughout this Privacy Policy, ​the terms "University","CU" refers to Chanakya University
and "CESS" refers to Centre for Educational & Social Studies including other legal entities inthe group (also referred to as ​"we", ​"us", or ​"our"). CESS is the Sponsoring Body of Chanakya University.
The University will try to keep the information on its website(s), https://chanakyauniversity.edu.in/ and https://chanakyauniversity.in/ accurate and up-to-date, the University cannot guarantee that it always will be. The contents of the website are purely for information purposes and are liable to be changed /removed without prior notice. Visitors and Users must independently verify the completeness, accuracy & timeliness of content before deciding to act on any information available on the website. Further, unless otherwise noted, the information may not represent official statements or views of the University.
The examination results uploaded on the website are only tentative and not final. The final marks of a student shall be those as borne on the official mark-sheet/ statement of marks issued to the student.
Disclaimer
The information is maintained and referenced at this site and on any other server within the https://chanakyauniversity.edu.in/ and https://chanakyauniversity.in/ domains or otherwise operated by Chanakya University.
University is provided "as is" without any express or implied warranty of any kind including warranties of merchantability, non-infringement of intellectual property, or fitness for any particular purpose. In no event shall Chanakya University or its employees or affiliates be liable for any damages whatsoever (including, without limitation, direct, indirect, special, compensatory, punitive or consequential damages, loss of use, loss of data, loss of income, claims of third parties, placement of content on a website, or to your reliance upon information obtained from or through a website) and shall not be responsible for any claims, including copyright infringement arising out of or in connection with the use of or inability to use the materials on the website even if the University has been advised of the possibility of such damages.
You must refrain from using the Website in any way that causes damage to the Website or the Application in any unlawful, harmful or fraudulent manner. Any such use of this website may give rise to a claim for damages and/or be a criminal offense.
We reserve the right to delete, disable and/or restrict your account.
We are not liable for any loss suffered by you through the use of the website howsoever caused, including loss caused through but not limited to our negligence, breach of contract, copyright infringement, breach of other intellectual property rights, or defamation.
Chanakya University does not warrant that its website(s) will operate in an uninterrupted or error-free manner or that they are free of viruses or other harmful components. Use of information obtained from or through these website(s) is at your own risk.
By using Chanakya University website(s) you signify your agreement to all terms, conditions, and notices contained or referenced herein. If you do not agree, you may not use the Chanakya University website(s). This Policy may be updated from time to time so please review this Policy regularly. We reserve the right in our sole discretion to edit or delete any documents, information, or other content appearing on the Site.
Refunds
Online payments made through a payment gateway to Chanakya University for any purpose (e.g., for admission or for registering for events, etc.) are non-refundable unless explicitly mentioned for a specific payment instance. Refunds will be processed ONLY for double or duplicate deductions. For any bank-related issues, the concerned bank must be contacted for the settlement of disputes. The University is not liable for any bank-related issues.
Non-Transferable
Your right to use the Site is not transferable. Any password or right given to you to obtain information or documents is not transferable.
Use of Information
We reserve the right, and you authorize us, to the use and assignment of all information regarding Site uses by you and all information provided by you in any manner consistent with our Privacy Policy.
Privacy Policy
Our Privacy Policy, as it may change from time to time, is a part of this Agreement.
Links to Other Web Sites
The Site contains links to other Web sites. We are not responsible for the content, accuracy or opinions express in such Web sites, and such Web sites are not investigated, monitored, or checked for accuracy or completeness by us. Inclusion of any linked Web site on our Site does not imply approval or endorsement of the linked Web site by us. If you decide to leave our Site or Application and access these third-party sites, you do so at your own risk.
Copyright, authors' rights, and database rights
All content included on the website, such as text, graphics, logos, button icons, images, audio clips, and videos, digital downloads, data compilations, and software, is the property of Centre for Education and Social Studies (CESS), its affiliates or its content suppliers and is protected by India and international copyright, authors' rights, and database right laws. The compilation of all content on the website is the exclusive property of CESS and its affiliates and is protected by laws of India and international copyright and database rights laws. All software used on the website and Website is the property of CESS, its affiliates, or its software suppliers and is protected by India and international copyright and author's rights laws.
You may not systematically extract/ or re-utilize parts of the contents of the website without CESS and/or its affiliates (as may be applicable) express written consent. In particular, you may not utilize any data mining, robots, or similar data gathering and extraction tools to extract (whether once or many times) for re-utilization of any substantial parts of this website, without CESS and/or its affiliates (as may be applicable) express written consent. You may also not create and/ or publish your own database that features substantial parts of the website without CESS and/or its affiliates (as may be applicable) expresses written consent.
Trademarks
CHANAKYA UNIVERSITY and other marks, logos indicated on the website are trademarked or registered trademarks of the Centre for Education and Social Studies (CESS), in India. The same may not be used in connection with any product or service that does not belong to CESS, in any manner that is likely to cause confusion amongst the public, or in any manner that disparages or discredits CESS. All other trademarks not owned by CESS that appear on the website are the property of their respective owners, who may or may not be affiliated with, connected to, or sponsored by us.
Source Code
You're not allowed to attempt to extract the source code of the Website, and you also shouldn't try to translate it into other languages or make derivative versions. The website itself, and all the trademarks, copyright, database rights, and other intellectual property rights related to it, still belong to CESS, with respect to Chanakya University's responsibility for your use of the website, when you're using the website.
Changes to This Terms and Conditions
We may update our Terms and Conditions from time
Jurisdiction and Applicable Law
These terms and conditions shall be governed by and construed in accordance with the Indian Laws. Any dispute arising under these terms and conditions shall be subject to the jurisdiction of the courts of Bengaluru.
Terms of Use
I/ we agree and accept the services provided by Razorpay and aggregator. At my/our request to carry out my payments on my/our account, given by me / us.
2. I/ we have no objection whatsoever, to the online payment facility providing my/ our billing details to the institute.
3. While the institute will take all reasonable steps to ensure the accuracy of the payment details, the institute is not liable for any error. I / we shall not hold the institute responsible for any loss, damages, etc. That may be incurred / suffered by me / us if the information contained turns out to be inaccurate / incorrect.
4. I/ we agree that any disputes on payment details will be settled directly with the institute and the responsibility limited to provision of information only.
5. I / we agree that we will make bill amount payments as required by the institute. I / we will not hold the institute responsible for rejecting the payment amount because of incorrect or incomplete entries.
6. I / we agree that the record of the instructions given and transactions with the institute shall be conclusive proof and binding for all purposes and can be used as evidence in any proceeding.
7. I/ we agree that charges, if any, for the online payment services will be at the sole discretion of the institute is at liberty to vary the same from time to time, without giving any notice.
8. I / we agree that the institute is at liberty to withdraw at anytime the online payment facility, or any services provided there under, in respect of any or all the account(s) without assigning any reason whatsoever, without giving me/ us any notice.
9. I/ we agree that if fees paid twice for one transaction, i/ we okay to receive the one amount refunded within 15 to 20 working days via same source.
10. I / we agree and accept that surcharge amount will not be refunded/ reversed back.
11. I / we agree the amount you are about to pay is non-refundable and the transaction cannot be cancelled i / we need to visit institute and contact accounts department for further procedure. If institute authorities agree for refund, then refund will be made via same source within 10 to 15 working days.

12. Charges applicable for Fees Payers / Txn: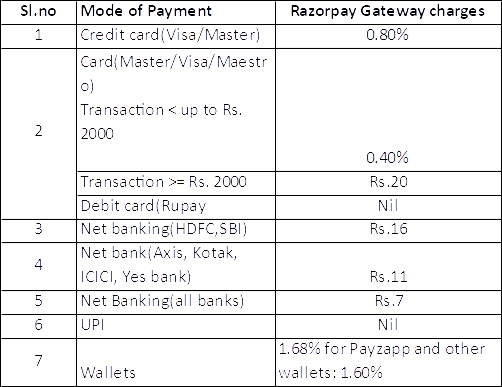 Contact Us
If you have any questions or suggestions about our Terms and Conditions, do not hesitate to contact us at complaints@Chanakyauniversity.edu.in