In the International Conference held on Chanakya's Philosophy and its Relevance to the 21st Centuries: Theories and Practices, Dr. Radhakrishnan Pillai, Founder Director, Chanakya Institute of Public Leadership, Mumbai said, "Chanakya an towering personality, who had mastered over Planning, Education, Economics, Management and Leadership philosophy, which are relevant to this day as well. The relevance extends to the democratic values through Debate, Discussion and Implementation. The philosophical tradition of Chanakya must be passed on to the next generations.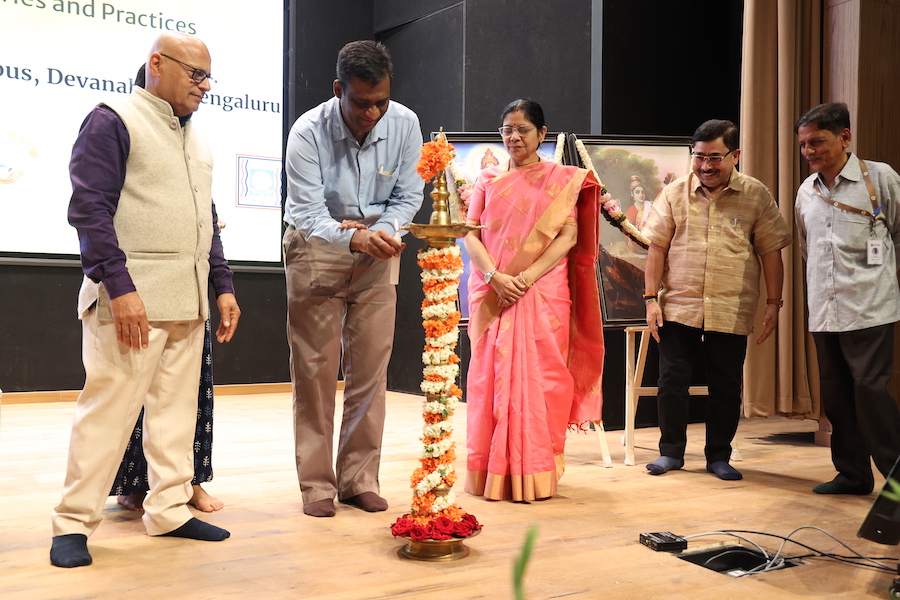 The opening symposium of the three-day Conference was held at Chanakya University's new Global Campus at Devanahalli on 4th Sept 2023. The Conference was jointly held in partnership with Institute of Social and Economic Changes, Bengaluru; Indian Knowledge Systems, Ministry of Education, GOI; National Law School of India University, Bengaluru; Dr. B.R. Ambedkar School of Economics University, Bengaluru and; Central Sanskrit University, Delhi.
The Opening Symposium of the 3-Day conference was held at Dr. Avinash Patwardhan, Health Care Researcher & Asst. Adj. Professor GMU, Virginia, USA delivered the keynote address. In his keynote address his briefed about Chanakya and his contribution. Emphasised on the learnings from Chanakya for the young minds to lead India as a global leader. His spoke how his works on polity and economy have influenced History and context the history must be considered. Credited Chanakya for presenting a bigger picture of ancient India through his Arathashastra.
The session was Presided over by Dr. Radhakrishnan Pillai, Founder-Director of Chanakya Institute of Public Leadership (CIPL). He mentioned that the principles of Kautilya is highly applicable and relevant to 21st century. Kautilya exhibited several dimensions-he is a state-craft; he is a strategist; a teacher; a financer; a manager; defence strategist. Kautilyas can be seen as a Leadership Guru as his leadership principles are very relevant to this day. With regard to democracy, Kautilya emphasis on the democratic attitude then on the form. According to him the leadership/king most follow the democratic principles. Kautilya's three principles-discussion, debate; application (of decision, strategy and documentation are very important to pass on from generation to generation is important and are relevant to current governance system.
The opening symposium followed by two Technical Sessions:
Human Asset Management in the Light of Kautilya's Arthashastra by Dr. Asavari Bapat, Director, Swami Vivekananda Cultural Centre, Embassy of India, Kathmandu, Nepal. Arathashastra is defined as Rajainithi and not just economy. It's a science of human asset management. Noted how the king is obliged to protect/ensure the welfare of his subjects. The present relation between employer and employee is seen through the relationship between the kind and the subjects as enunciated by Kautilya. A detailed account of what Kautilya advocated for the benefit of the subjects/employees was given and how those are relevant to todays industry/corporate.
Speaking on Polity's Happiness Lies in People's Wellbeing, Dr. Kamal Kishore Mishra, Associate Professor, Department of Sanskrit, University of Calcutta, Kolkata, draw the attention towards the 4 purusharthas and how all the purusharthas are equal and interlinked. Referring to India's contemporary foreign policy, he noted a lot of dimension is borrowed from the Mandala theory of Kautilya. India has rich knowledge, we must respect and build the new India upon that.
Dr. Yashavantha Dongre, Vice-Chancellor of the Chanakya University mentioned that 29 research papers will be presented during the 3-day conference. He mentioned that this campus would house 25 thousand students in the coming days.
5th to 7th Sept the Conference will be held at Institute of Social and Economic Change (ISEC), Nagarbhavi. The Inaugural session will be graced by Prof. Sukhadeo Thorat, Chairman, BoG, and Prof. D Rajasekhar, Director, ISEC; Inaugural Address will be delivered by Shri. Arif Mohammed Khan, Hon'ble Governor of Kerala; Keynote Address will be by Prof. Dhananjay Singh, Member Secretary, ICSSR, New Delhi; Prof. K.V. Raju, Economic Advisor to the Chief Minister, Government of Uttar Pradesh, Uttar Pradesh will speak about the conference.
The Conference will broadly present the ideas of the great Chanakya on Good Governance, Effective Leadership and Stakeholders Groups; Society, Community, Organization and Decentralization; Welfare Economics; Sustainable Development and Management of Natural Resources and; Rule of Law and Legal Institutions with focus on the relevance of his thoughts for the 21st Century governance and development sector.
The Conference is an attempt to revisit, deliberate and discuss the political philosophy of the 3rd century BC Indian Philosopher-Chanakya, whose thoughts are also known as Kautilya Nithi. The Conference is bringing together the best of the minds to have a better understanding and credible knowledge about Chanakya's Philosophy and its relevance to present day governance and developmental challenges. An important outcome of this conference is the publication of Policy Briefs for wider dissemination and for submission to policy makers, senior officers of the government, relevant research organizations, and think tanks across the world. In addition, based on the Conference debates, deliberations and outputs, policy workshops will be held at regional/national level.