The Signing of the Memorandum of Understanding (MoU) between Chanakya University and the Grassroots Advocacy and Research Movement (GRAAM) was held at Chanakya University's new Global Campus at Devanahalli on 5th October 2023. The Senior Leadership of GRAAM was represented by Dr Basavaraju R Shreshta, Executive Director, Mr. Bhagavan BR, Head – Impact Innovation and Knowledge Consulting (IIK-CON) and Ms. Suma Jairam, Sr. Manager – Impact Innovation and Knowledge Consulting (IIK-CON).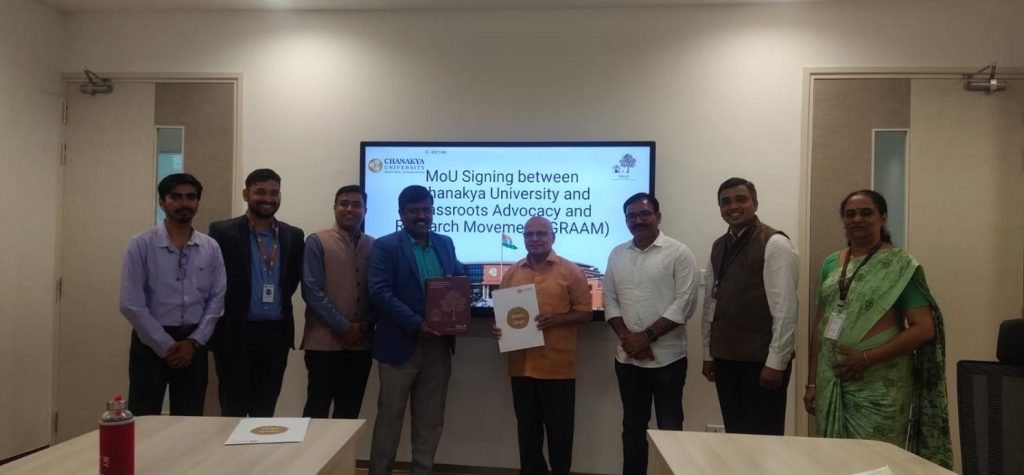 There was a discussion about how GRAAM and Chanakya University can collaborate towards learner and faculty exchange, research, and consultancy, nation-building and grassroots development.
The Senior Leadership of GRAAM addressed learners of the Chanakya Fellowship in Social Sciences (CFSS) and there was a brainstorming on various aspects of grassroots governance and rural development. The visiting delegation was shown the hostel block and other upcoming buildings of the sprawling Chanakya University campus.
An important outcome of this collaboration will be internships and career pathways for the students and learners of Chanakya University, joint research, immersive programs and the sharing of faculty and research personnel.