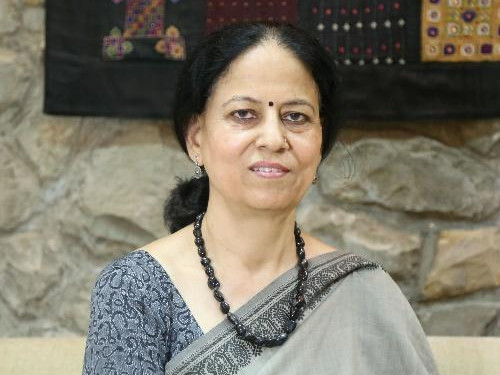 Shalini Bharat is Director/Vice Chancellor, Tata Institute of Social Sciences, Mumbai, India.
She has nearly four decades of experience in teaching, research, capacity building, advocacy and field action in broad areas of social science and health, social development, family studies and minority community demographics. She is known for her work on equity and access issues with special reference to reproductive and women's health; social determinants of HIV and TB, including stigma, discrimination and human rights issues; multi-purpose prevention technologies for HIV epidemic; self-testing for HIV prevention; young people's health and wellbeing; family studies and child adoption; women, work and family; and demography of the Indian Parsi community. With her wide experience in community-based research using qualitative and mixed methodology research approaches, she has contributed to a deeper and more nuanced understanding of the social and gender dimensions of a range of issues concerning health, development and wellbeing of women, youth and vulnerable populations such as, people living with HIV, transgender people and homosexual men, and female sex workers. She has also contributed to understanding mainstreaming of gender in HIV and mental health and social linkages for controlling drug resistant TB. Her research on the Parsi community is an in-depth exploration of the psycho-social aspects of the demographic decline of India's most threatened population group on the verge of extinction.
Shalini Bharat currently also leads the Institute's 'Saksham' program, a sub-recipient of Global Fund grant, for developing and implementing psycho-social counseling and social linkages for drug resistant TB patients in four Indian states. Prior to this, between 2012 and 2015, when 'Saksham' program was the Principal Recipient of the Global Fund grant for HIV counseling project across the country with 36 University partners, she served as its National Program Director.
She has served as consultant on many national and international projects. Her research work has received funding from a range of sponsors including Ministry of Health and Family Welfare, GoI, Sir Dorabjee Tata Trust, National Institutes of Health (USA), UNAIDS, UNDP, UNFPA, UNIFEM, Bill & Melinda Gates Foundation, World Bank, DfID, IAVI/USAID among others. In 2002 she was invited by the State Department of the US government under its International Visitor's Program, to visit HIV/AIDS programs in various US Universities, and was a visiting faculty/ guest lecturer to London School of Economics, Yale University, and University of Le Havre France and to numerous national and international conferences and seminars. She has served on the editorial board of a leading international journal, including as book review editor in another. She is the current head of the editorial board of the Indian Journal of Social Work, India's leading journal in the field.
As a member on several national scientific advisory committees and boards Shalini Bharat is actively engaged with a wide range of national level programs, schemes, policies and field interventions in health and public health, social development, gender, HIV/AIDS, TB prevention among others.
Shalini Bharat's recent publications include a 4-Volume Series "Parsis of India: Continuing at the Crossroads" from Sage and "Health and Wellbeing of India's Young People" from Springer. Her seminal work on HIV related stigma and discrimination was published as Key Material by UNIADS, Geneva in 2001.
Shalini Bharat is fluent in Hindi and English, and can read and understand Marathi. She is an alumna of Allahabad university (Psychology Department). She is the recipient of two gold medals in her master's degree program and one in her bachelor's study program and was awarded the UGC Junior Research Fellowship for doctoral work. Prior to joining TISS in 1984 she served as Research Associate (1978-81) and lecturer (temp-1981-82) at Psychology department of Allahabad University, and lecturer (ad hoc) at the Daulat Ram College of Delhi University (1982-83).