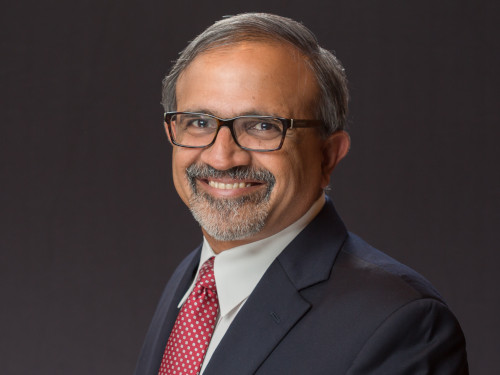 Dr. Ramgopal (Ram) Venkataraman is the Chair of the Department of Accounting in the College of Business at the University of Texas at Arlington. He received his PhD in Accounting from Penn State's Smeal College of Business. He is also a chartered accountant from India (FCA – not active) who was a All India rank holder in both Inter and Final. He also completed ICWA in India and was a rank holder in the final exam as well. He worked in an accounting firm, Sridhar & Santhanam (currently PKF Sridhar & Santhanam) as an articled clerk, audit manager and eventually partner before moving to Sharjah to work for a switchgear manufacturing firm. He has leveraged his extensive business experience and his academic training in bringing value to his students in MBA, Executive MBA, Healthcare Administration, executive education in addition to undergraduate and graduate students of accounting. He has received outstanding teaching awards as well as recognition as an outstanding PhD advisor.
Dr. Venkataraman's research is diverse and wide-ranging. He has published his accounting research in top accounting journals such as The Accounting Review, Contemporary Accounting Research, Review of Accounting Studies, etc. His research focuses on empirical capital markets, financial analysts, auditing and the effects of accounting disclosures. In addition to his research in accounting, he also conducts research in the medical field working with faculty at the University of Texas Southwestern Medical Center. His research in this field largely focuses on database research on the impact of care practices on outcomes for patients on extra-corporeal life support. This research has been published in Journal of Intensive Care Medicine, Pediatric Critical Care Medicine, ASAIO and others.
Dr. Venkataraman currently serves as the Co-Editor of Journal of Contemporary Accounting and Economics (an A* journal on the ABDC list) in addition to serving on numerous college and university roles in promoting student success and supporting pedagogical innovations. In his role as department chair, he promotes engagement between academia and the business community by holding and promoting various events such as international and regional conferences (Lone Star Conference and JCAE Conference) as well as learning opportunities beyond the classroom such as CPE days, Firm nights, etc. In addition to service to the university and the business community, Dr. Venkataraman has also been active in the Boy Scouts of America as a Scoutmaster and a faculty member for many leadership courses for both adults and scouts.