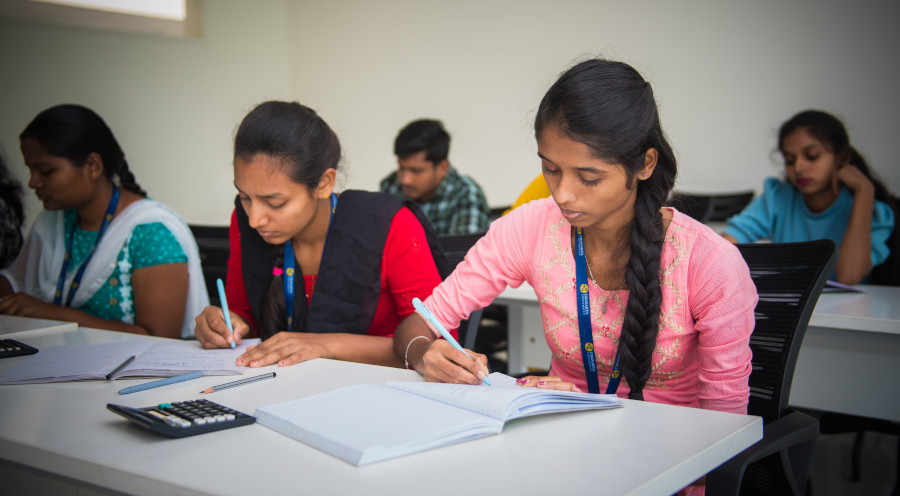 Making higher education accessible to needy/deserving students, promoting educational equity.
Chanakya University, through its Chanakya Scholarships initiative, enables students to pursue undergraduate programs under a fully funded model. This means-cum merit program is aimed at supporting and encouraging meritorious students from economically disadvantaged backgrounds to pursue world-class education at the University and thereby take up the right career paths for life.
Chanakya University is also committed to offering free education for 10% of its total students in any given academic year.
Check out below the guidelines to avail Chanakya Scholarships (100% scholarships):
Eligibility criteria
Consistency in academic performances: 85% or above in the qualifying examination (10th and 12th or equivalent examinations)
Annual family income less than INR 8 lakhs
Benefits for students:
Tuition fees/Program fees
Hostel accommodation
Food expenses
Library fees
Laboratory fees
This scholarship amount excludes:
Security /caution deposit,if any
Travel expenses
Study tours
Additional courses that students may opt for.
Application Process
Application Process:
Completion of the application form
Taking up the Chanakya University Scholarship Entrance Test (CSET)
Telephonic interview.
Online interview for shortlisted students
Personal interview
House visit for verification
Announcement of final list on the Chanakya University website
Issuance of "Letter of Offer" of scholarship by the Office of the Registrar to eligible students
Chanakya Scholarships will be awarded based on:
SSLC/10th Score
PUC/12th Score
CSET Score
Personal Interview Score
Duration & Renewal of the Award of Scholarship
The "Chanakya Scholarship" will be tenable for one academic year.
The "Chanakya Scholarship "shall be reviewed by the scholarship renewal committee and decision of the committee shall stand final.
The process of review shall be conducted between the period of completion of academic year and commencement of next academic year. A separate notification shall be issued in this regard by the university.
Disbursement of scholarships based on below family Income range.
Less than INR 3 lakhs
INR 3 – 4 lakhs
INR 4 – 6 lakhs
INR 6 – 8 lakhs
The Chanakya Scholarship Entrance Test (CSET) will be held on the following dates. Students are free to choose the date of the examination.
Note:
The students after registering will be given a "unique identity number" which should be used for any further correspondence for Chanakya Scholarships.
The Scholarship committee reserves the right to take a final decision.
All eligible candidates are requested to go through the announcement on university website: www.chanakyauniversity.edu.in and www.buddy4study.com and shall complete the application procedure.
For more information contact:
Ms. Srilekha P
+91 99012 92494
scholarship@chanakyauniversity.edu.in
Click on the below links to read the Scholarship notification in: